Poetry Index I
(Poems in
collaboration with
paintings/photography
by gifted contemporary
artists)

Poetry Index II
(Poems with graphics
and/or artwork by
traditional artists)

Haiga/Graphics

Short Forms

About Me

Email: campris (at) bellsouth(dot)com
---
All poems and images on this site are copyrighted. Do not reproduce or copy elsewhere without my written or email consent. Thanks.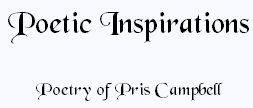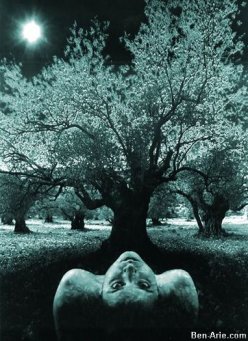 Daphne: Copyrighted by Itzhak BenArieh
Used with permission

For recent or featured poems and haiga, click HERE.
(All of my poetry and haiga are listed in the indexes in the left-hand column)

.




---


Many direct journal links are on the recent or featured poems and haiga page as well as in BIO and BOOKS. I don't attempt to add all links and only do this periodically beginning in 2009. Journals don't always archive or don't keep poems/interviews/haiga on the same link so the links become dated very quickly. I've been publishing since 2002 and would estimate that it would be hard to find archived links for probably 2/3's of the publications. Print publications, needless to say, can't be archived.

Go to Books in the left index to see my latest out!





Painting: Daphne by Itzhak Ben-Arieh
(painting copyrighted and all rights reserved by the artist.
Click on his name to visit his site)
Most of this site is best viewed at 1024 by 768 screen resolution.